OH MY FUCKING GOD!

WHAT AN AMAZING NIGHT!

I FUCKING LOVE GREEN DAY!

I'm going to apoligise in advance for this review. I have literally spent all day today writing this out because once I got started I couldn't stop and when I write things like this I just can't leave anything out. I'm dead proud of myself for actually getting it done though, last time I said I'd write one but forgot all about it haha. I'm going to update it soon with a picspam of the concert and hopefully with some videos once I get them from my friend's camera, as Green Day seemed to be too loud for my camera to record the sound properly =[. Anyway, the review is under the cut so enjoy :)

Green Day concert – Saturday 19th June 2010, London Wembley Stadium
My review
Saturday the 19th June 2010 was a day I know I am never going to forget. The reason for this is because I got to see the band I have been in love with since I was about eight or nine years old, Green Day, play in concert for the second time on their 21st Century Breakdown tour. When I saw them at Wembley Arena last November they absolutely blew me away, but yesterday they did more than that with their mesmerizing performance at London Wembley Stadium, which was much much bigger than the Arena and jam-packed with people.

I knew that Wembley Stadium was big but I didn't realise just how huge it really was. It looks massive from the outside but inside it's just gigantic. It made me feel so small when I was standing in there, though I already am pretty small and ended up standing really close to the front but was unable to see hardly anything as I seemed to be surrounded by very tall people. I could barely see the warm up acts as more and more people started to edge closer and closer and I was slowly being squashed in what felt like a crowd of giants.

The support acts were really good. The first was someone I hadn't heard of before; Frank Turner and he was pretty damn awesome. The crowd loved him and he was really good at getting everyone all hyped up ready for the rest of the night. He only sang a few songs, but my favourite was 'Photosynthesis' because he got the audience involved in this song, teaching us the lyrics to the chorus; lyrics which I can't get out of my head now as I was listening to it all morning. The second support act was one I had heard of, a classic Rock and Roll band who I'm sure every music fan knows at least one song by them; Joan Jett and the Blackhearts. These guys were wicked, granted I only knew one song by them; a song which is probably their most popular known as 'I Love Rock and Roll'. They did a great job at getting us all ready for Green Day and I really enjoyed their performance. The only thing that ruined it for me was the group of idiots standing somewhere near me in the crowd, who were constantly shouting "EEEEEEEEMOOOOOOOO!" at the band throughout their performance. I just thought this was so rude and disrespectful. Who goes to a Green Day concert and insults the support acts by shouting the name of a pathetic stereotype at them? How pathetic. These guys weren't even kids; they were full grown men who should have known better, especially when the kids who looked about twelve standing next to me were shouting at them telling them to shut up. Seriously guys, get some respect! People like that really do bug me. Anyway, I don't think the band heard, and to be honest even if they did I'm pretty sure they didn't care about a few pathetic idiots in the crowd. Everyone else loved them. I loved them. Hats off to both support acts, job well-done in my opinion.

In between the support acts and Green Day was The Bunny. Anyone who has been to a Green Day show during this tour will know what I mean by this. I remember it from the last time at Wembley Arena, too. I don't even know how to describe it really; it's just hilarious to watch a big dressed up pink bunny downing bottles of beer as the crowd repeatedly shouts "chug chug chug chug!" and attempting to dance to the Village People's 'YMCA'. It's one of those things where 'you had to be there', haha. Although dressed up things scare the crap out of me half the time, I like to think that this bunny is actually one of the Green Day members, most likely drummer Tre Cool, underneath the costume, makes it a lot less scary for me.

After an already really long day, Green Day finally came on stage and well, the first few minutes of their performance were not so enjoyable for me. Before going into the stadium, my friend and I agreed that we did not want to end up in a mosh pit during the concert. Well, that didn't work out so well, as little did me know that where we were standing which was only 3 or 4 rows back from the front, everyone around us was just waiting for Green Day to come on and become one huge mosh pit. The minute Green Day walked on stage, I was being crushed to the point where I really could not breathe or move and I was holding on to my friend for dear life as I got shoved forwards and backwards as Green Day sang '21st Century Breakdown'. People were going really crazy and I had to get out of there. I know that probably makes me a total wimp, but I have issues with personal space as it is and that was just way too much for me to handle. It's actually quite funny thinking about it now, but yesterday I wasn't laughing; it was really scary! I almost ended up on my face numerous times as I'm clumsy enough as it is without being pushed and shoved by hundreds of people. Anyway we didn't even last through the first song there, we got out after about a minute and people were really nice about letting us get through the crowd, some men were helping us through and asking if we were ok, haha. We moved to a space that was still really close to the stage but further over to the left, where we found our other two friends who we were looking for earlier. People were a bit more spaced out there and it was easier to breathe and enjoy the rest of the show.

When they arrived on stage Billie Joe did his usual ordering everyone in the packed stadium to stand up. He then declared: "This is the biggest fucking show we have ever had in our lives. This is going to be the best rock and' roll show Wembley has ever seen!" and then told everybody to "go fucking crazy" which we definitely did, jumping like lunatics and singing along as they performed 'Know Your Enemy' and 'East Jesus Nowhere', which they did so amazingly. Billie Joe Armstrong always amazes me. He looked better than ever last night. It felt so strange seeing them on stage this time, at the last concert I wasn't as close as I was yesterday, and it just seemed so surreal looking at them in person so up-close. This probably sounds really weird but after watching them in music videos and stuff all the time, when I saw them last night it was just like "oh wow, they're actually real people". I was just amazed by the fact that it was actually Green Day and they were so close to me...

One thing Billie Joe Armstrong is good at is connecting with his audience during a show. Throughout the entire concert he was getting various members of the crowd up onto the stage, almost always kids this time. I don't know if any other bands do this during their shows, but this is what makes Green Day's concerts what they are, because they are sort of knocking down the barrier between celebrity and ordinary people and are making sure that everyone has the greatest time of their lives. For the several people he brought up on stage it was like they weren't just watching the concert, they really were a part of it, if that makes any sense? I thought it was really sweet that he mainly got younger people up on the stage particularly the kids, as that must have been completely terrifying for them but those few minutes will have such a huge impact on their lives and they will never forget the fact that they got to sing on stage in front of thousands of people in Wembley Stadium with Green Day. Billie Joe got one kid (well I say 'kid' but he was only fifteen, a year younger than me) up on stage and let him sing the whole of 'Longview' while the rest of the band carried on playing, he also gave him beer to drink and told him he had to do a crowd dive, and seeing his terrified facial expression, got the whole of the crowd to chant his name "Rufus! Rufus! Rufus!" as he did the crowd dive. Ah, it was awesome to watch, and I loved the way the kids that got on that stage just wanted to hug Billie Joe the whole time, and he just picked them up and let them. God, I love that man so fucking much. He even got some guy up on stage that seemed to want to do nothing else but kiss him to death, which was amusing to watch.

At various moments throughout the show, Billie Joe kept declaring his love for England, constantly shouting "ENGLANNND!" during songs and this made the crowd cheer and jump and buzz, my throat is recovering from the amount of screaming I did yesterday haha. He made many comments about the World Cup as well, which for some reason I wasn't really expecting. When one of the kids he got up on stage told him he was from Ireland, Billie Joe pulled a face at the audience, looked at the kid and said "well all I can say is you're lucky you weren't playing in the World Cup on Saturday". A number of times Billie Joe also wore props with the England flag on them such as a big flag which he wrapped around himself, a big curly wig with the red England stripe on it, and many others. As they performed their hit single 'Boulevard of Broken Dreams' the entire crowd sang back in unison, and once the song was over Billie Joe stopped, looked round at the crowd and said "Fucking Green Day is going to win the goddamn World Cup I can tell you that now!" which sent everyone into a huge moment of cheering. He also said a big "Fuck you, USA!" towards the end of the concert which also left the crowd cheering and buzzing.

The show this time was packed with fireworks and shooting flames coming off the stage. I was standing right near it and when the flames shot up I felt like my eyebrows were being burnt off with the amount of heat coming from it haha. It was amazing though no matter how many times I screamed where the fireworks made me jump. I think it's those fireworks that have left my ears ringing constantly at the moment. I'm not complaining though, it was more than worth it. It made the concert into an incredible performance rather than just a decent gig. Hats off to them for it, it was spectacular.

Although Billie Joe was the person I've spoken about the most because I am so in love with him, I've got to say that the rest of the band was amazing too. Tre Cool is an excellent drummer and I really don't know how his arms didn't drop off last night, the same with Mike Dirnt playing the guitar. They are such a talented band it is unbelievable. When they came on to perform 'King for a Day' they were dressed in bizarre yet hilarious costumes; Billie in a silver crown and white feather boa and Tre in a red bra, white hat and 'Dame Edna' style glasses. This part of the concert was so funny, because Tre swapped places with Billie Joe and did some sort of crazy dance to Lulu's 'Shout' whilst Billie Joe drummed. It was mad, but the crowd loved it, cheering Tre on to do it "one more time" every time the two switched back, Billie gave Tre the microphone back and Tre gave him back the drum sticks. In the end Tre did this song four times because the crowd kept on requesting it. Mike had a go at it too which was also very amusing, and we also tried to chant guitarist Jason White's name in an attempt to let him have a go, but Billie Joe laughed that one off and continued to sing the rest of the medley of covers of songs such as 'Highway to Hell', 'Sweet Child O' Mine', 'Can't Get No Satisfaction', 'Always Look on the Bright Side of Life', 'Hey Jude' and others which were all performed brilliantly and all sang back in unison by the entire crowd.

The final part of the show was my favourite, although I really didn't want it to end. The last song that was performed before the encores was '21 Guns' which lead into 'Minority' afterwards. '21 Guns' is one of my favourite Green Day songs and Billie Joe sang it so beautifully. The entire crowd sang in unison to this, and I got goose bumps as I looked around me at everybody else with their arms in the air as Billie Joe sang "throw up your arms into the sky, you and I". I've got goose bumps now just thinking about it. It's truly such an amazing feeling when you see all those arms in the air, and to think that each and every person was in that stadium for the very same reason, to see this amazing band and show their appreciation for their music. It's just amazing. The band then said a big thank you to all of the crowd and Billie Joe said something along the lines of "I don't know when we're next gonna be here, but I tell you one thing, I'm going to remember this for the rest of my fucking life! We will come back. There ain't no other band I'd rather be in. Bands break up, my favorite bands have broken up, my favourite people have died. The only way I'm getting out of this band will never be another way than in a coffin I'll tell you that."This made the crowd go wild with cheering and whistling and chanting "Green Day". It made me tear up for sure. It was one of those moments where you realise that there is nowhere else you want to be and you just want the night to last forever.

It truly was the most amazing night of my life. The almost constant smile on Billie Joe's face throughout the whole night was the best part of the concert for me, because it showed that he was enjoying every minute of it in the exact same way that everyone else in that stadium was. He just kept pausing during and in between songs and stared round at the crowd. They really are such an amazing band and I know the word 'amazing' has been used a lot by me here, but there really is no other word that I can use to describe it. When they first arrived on stage, after singing '21st Century Breakdown' Billie Joe said to the crowd: "you just fucking get it! You just fucking understand!" Billie Joe Armstrong has the ability to make every single member of the audience feel as if they are significant, as if all of it is for them.'21 Guns', 'Jesus of Suburbia', 'Wake Me Up When September Ends' and 'Good Riddance (Time of your Life)' are songs that are very important to me; the lyrics hold a lot of meaning and really hit home for me. So when I was singing the words to these songs, and I looked around at everybody else in the crowd and saw the looks on their faces when singing 'Jesus of Suburbia', I sort of got this overwhelming sensation of feeling like I really was a part of something, because I could tell from the look on everyone's faces as they sang that, like me, they weren't just singing because they knew the words, they really meant it. Does that sound weird? It probably does, but I can't think of any other way to describe that feeling. Billie Joe ended the show with 'Good Riddance (Time of your Life)' and the last line of that song is "It's something unpredictable, but in the end is right. I hope you had the time of your life." Well, scary mosh pits aside; I really did have the time of my life. Last night was by far the best concert I have ever been to in my life and Green Day are without a doubt the best band in the fucking world, and I don't think that is ever going to change for me. I love them so much and they rocked last night. I hope that it was the "biggest fucking show" of their "lives", but even if it wasn't, it was definitely the biggest fucking show of my life, and I'm never going to forget it. THANK YOU GREEN DAY, I LOVE YOU! ♥
Setlist
Support acts
Frank Turner
Oh maturity's a wrapped up package deal so it seems
And ditching teenage fantasy means ditching all your dreams
All your friends and peers and family solemnly tell you you will
Have to grow up be an adult yeah be bored and unfulfilled
Oh when no one's yet explained to me exactly what's so great
About slaving 50 years away on something that you hate, about meekly shuffling down the path of mediocrity
Well if that's your road then take it but it's not the road for me
And I won't sit down
And I won't shut up
And most of all I will not grow up
Joan Jett and the Blackhearts
I saw him dancing there by the record machine
I knew he must have been about 17
The beat was going strong, playing my favourite song
I could tell it wouldn't be long 'till he was with me
Yeah me
I could tell it wouldn't be long 'till he was with me
Yeah me
Singing I love rock and roll
So put another dime in the jukebox baby
I love rock and roll
So come and take your time and dance with me
Green Day
Song of the Century
Sing us a song of the century
That's louder than bombs and Eternity
The era of static and contraband
Leading us into the Promised Land
Tell us a story that's by candlelight
Waging a war and losing the fight
They're playing our song of the century
Panic and promise and prosperity
Tell me a story into that goodnight
Sing us a song for me
21st Century Breakdown
Born into Nixon, I was raised in hell
A welfare child where the teamsters dwelled
The last one born and the first one to run
My town was blind from the refinery sun
My generation is zero
I never made it as a working class hero
21st century breakdown
I once was lost but never was found.
I think I'm losing what's left of my mind
To the 20th century deadline
Know Your Enemy
Do you know the enemy?
Do you know your enemy?
Well, gotta know the enemy
Violence is an energy
Against the enemy
Violence is an energy
Bringing on the fury
The choir infantry
Revolt against the honour to obey
Overthrow the effigy
The vast majority
Burning down the foreman of control
Silence is the enemy
Against your urgency
So rally up the demons of your soul
East Jesus Nowhere
Put your faith in a miracle
And it's non-denominational
Join the choir we'll be singing
In the church of wishful thinking
A fire burns today
Of blasphemy and genocide
The sirens of decay
Will infiltrate the faith fanatics
Holiday
Hear the drum pounding out of time
Another protester has crossed the line
To find the money's on the other side
Can I get another Amen?
There's a flag wrapped around the score of men.
A gag, a plastic bag on a monument
I beg to dream and differ from the hollow lies
This is the dawning of the rest of our lives
On Holiday
The Static Age
All I want to know is a god-damn thing
Not what's in the medicine
All I want to do is I want to breathe
Batteries are not included
What's the latest way that a man can die, screaming hallelujah?
Singing out "the dawn's early light"
The silent of the rotten, forgotten
Screaming at you
I can't see a thing in the video
I can't hear a sound on the radio
In stereo in the static age
Give Me Novacaine
Take away the sensation inside
Bittersweet migraine in my head
It's like a throbbing toothache of the mind
I can't take this feeling anymore
Drain the pressure from the swelling
This sensation's overwhelming
Give me a long kiss goodnight
And everything will be alright
Tell me that I won't feel a thing
So give me Novacaine
Out of body and out of mind
Kiss the demons out of my dreams
I get the funny feeling and that's alright
Jimmy says it's better than here

Are We the Waiting
Starry nights, city lights
Coming down over me
Skyscrapers and stargazers in my head
Are we we are, are we we are
The waiting, unknown
This dirty town was burning down in my dreams
Lost and found city bound in my dreams
And screaming
Are we we are, are we we are the waiting,
And screaming,
Are we we are, are we we are the waiting
Forget me not's and second thoughts
Live in isolation
Heads or tails and fairytales in my mind
Are we we are, are we we are
The waiting, unknown
The rage and love, the story of my life
The Jesus of suburbia is a lie
St. Jimmy
St. Jimmy's comin' down across the alleyway
Up on the boulevard like a zip gun on parade
Light of a silhouette
He's insubordinate
Coming at you on the count of 1,2,1,2,3,4!
My name is Jimmy and you better not wear it out
Suicide commando that your momma talked about
King of the forty thieves
And I'm here to represent
That needle in the vein of the establishment
I'm the patron saint of the denial
With an angel face and a taste for suicidal
Cigarettes and ramen and a little bag of dope
I am the son of a bitch and Edgar Allen Poe
Raised in the city under a halo of lights
The product of war and fear that we've been victimized
Boulevard of Broken Dreams
I walk a lonely road
The only one that I have ever known
Don't know where it goes
But it's home to me and I walk alone
I walk this empty street
On the boulevard of broken dreams
When the city sleeps
And I'm the only one and I walk alone
My shadow's the only one that walks beside me
My shallow heart's the only thing that's beating
Sometimes I wish someone out there will find me
'Til then I walk alone
I'm walking down the line
That divides me somewhere in my mind
On the borderline of the edge
And where I walk alone
Read between the lines of what's
Fucked up and everything's alright
Check my vital signs to know I'm still alive
And I walk alone
Nice Guys Finish Last
Nice guys finish last
You're running out of gas
Your sympathy will get you left behind
Sometimes you're at your best when you feel the worst
Do you feel washed up like piss going down the drain?
Pressure cooker pick my brain and tell me I'm insane
I'm so fucking happy I could cry
Every joke can have its truth
But now the joke's on you
I never knew you were such a funny guy
Burnout
I declare I don't care no more
I'm burning up and out and growing bored
In my smoked out boring room
My hair is shagging in my eyes
Dragging my feet to hit the street at night
To drive along these shit town lights
I'm not growing up
I'm just burning out
And I stepped in line to walk amongst the dead
Waiting
I've been waiting for a long time
For this moment to come
I'm destined
For anything at all
Downtown lights will be shining
On me like a diamond
Ring out under the midnight hour
No one can touch me now
And I can't turn my back
It's too late ready or not at all
I'm so much closer than
I have ever known
Wake up

Geek Stink Breath
I'm on a mission
I made my decision
To lead a path of self-destruction
A slow progression
Killing my complexion
And it's rotting out my teeth
I'm on a roll
No self control
I'm blowing off steam with
Meth Amphetamine
Dominated Love Slave
I wanna be your dominated love slave
I wanna be the one who takes the pain
You can spank me when I do not behave
Smack me in the forehead with a chain
Cuz I love feelin' dirty
And I love feelin' cheap
And I love it when you hurt me
So drive them staples deep
Hitchin' a Ride
Hey mister, where you headed?
Are you in a hurry?
I need a lift to happy hour
Say oh no
Do you break for distilled spirits?
I need a break as well
The well that inebriates the guilt
1, 2, 1, 2, 3, 4
Cold turkey's getting stale
Tonight I'm eating crow
Fermented salmonella poison oak no
There's a drought at the Fountain of youth
And now I'm dehydrating
My tongue is swelling up
As say 1, 2, 1, 2, 3, 4
Troubled times
You know I can not lie
I'm off the wagon
And I'm hitchin' a ride

Welcome To Paradise
Dear mother can you hear me whinin'?
It's been three whole weeks
Since that I have left your home
This sudden fear has left me trembling
'Cause now it seems that I am out here on my own
And I'm feelin' so alone
Pay attention to the cracked streets
And the broken homes
Some call it slums
Some call it nice
I want to take you through a wasteland
That I like to call my home
Welcome to Paradise

When I Come Around
I heard you crying loud
All the way across town
You've been searching for that someone and it's me out on the prowl
As you sit around feeling sorry for yourself
Don't get lonely now
And dry your whining eyes
I'm just roaming for the moment
Sleazin' my backyard so don't get so uptight
You've been thinking about ditching me
No time to search the world around
'Cause you know where I'll be found
When I come around
I heard it all before
So don't knock down my door
I'm a loser and a user
So I don't need no accuser
To try and slag me down because I know you're right
So go do what ya like
Make sure you do it wise
You may find out that your self- doubt means nothing was ever there
You can't go forcing something when it's just not right
No time to search the world around
'Cause you know where I'll be found
When I come around
Iron Man/Sweet Child O Mine/Highway to Hell
Has he lost his mind?
Can he see or is he blind?
Can he walk at all?
Or if he moves will he fall?
Is he alive or dead?
Has he thoughts within his head?
We'll just pass him there
Why should we even care?
She's got eyes of the bluest skies
As if they thought of rain
I'd hate to look into those eyes
And see an ounce of pain
Her hair reminds me
Of a warm safe place
Where as a child I'd hide
And pray for the thunder
And the rain to quietly pass me by
Woah, oh, woah sweet child o' mine
Oh, oh, oh, oh sweet love of mine
Livin' easy, lovin' free, season ticket, on a one - way ride
Askin' nothin', leave me be, takin' everything in my stride
Don't need reason, don't need rhyme
Ain't nothing I'd rather do
Goin' down, party time, my friends are gonna be there too
I'm on the highway to hell
Highway to hell
I'm on the highway to hell
Brain Stew
I'm having trouble trying to sleep
I'm counting sheep but running out
As time ticks by and still I try
No rest for cross tops in my mind
On my own here we go
My eyes feel like they're gonna bleed
Dried up and bulging out my skull
My mouth is dry my face is numb
Fucked up and spun out in my room
On my own here we go
My mind is set on over-drive
The clock is laughing in my face
Crooked spine my sense is dull
Past the point of delirium
On my own here we go
Jaded
Somebody keep my balance
I think I'm falling off
Into a state of regression
The expiration date
Rapidly coming up
It's leaving me behind to rank
Always move forward
Going straight will get you nowhere
There is no progress
Evolution killed it all
I found my place in nowhere
I'm taking one step sideways
Leading with my crutch
Got a fucked up equilibrium
Count down from 9 to 5
Hooray! We're gonna die!
Blessed into our extinction
Longview
Sit around and watch the tube
But nothing's on
Change the channels for an hour or two
Twiddle my thumbs just for a bit
I'm sick of all the same old shit
In a house with unlocked doors
And I'm fucking lazy
Bite my lip and close my eyes
Take me away to paradise
I'm so damn bored I'm going blind
Basket Case
Do you have the time to listen to me whine?
About nothing and everything all at once
I am one of those
Melodramatic fools
Neurotic to the bone
No doubt about it
Sometimes I give myself the creeps
Sometimes my mind plays tricks on me
It all keeps adding up
I think I'm cracking up
Am I just paranoid?
Or am I just stoned
She
She, she screams in silence
A sullen riot penetrating through her mind
We, wait for a sign
To smash the silence with the brick of self-control
Are you locked up in a world that's been planned out for you?
Are you feeling like a social tool without a use?
Scream at me until my ears bleed
I'm taking heed just for you
She, she's figured out
All her doubts were someone else's point of view
Waking up this time
To smash the silence with the brick of self-control
King for a Day
Started at the age of 4
My mother went to the grocery store
Went sneaking through her bedroom door
To find something in a size 4
Sugar and spice and everything nice wasn't made for only girls
G.I. Joe in panty hose is making way for the one and only
King for a day,
Princess by dawn
King for a day
In a leather thong
King for a day,
Princess by dawn
Just wait till all the guys get a load of me
My daddy threw me in therapy
He thinks I'm not a real man
Who put the drag in the drag queen?
Don't knock it until you try it

Shout/Teenage Kicks/ Always Look on the Bright Side of Life/ (I Can't Get No) Satisfaction/Hey Jude
I want you to know
I said I want you to know right now
You have been good to me baby
Better than I've been to myself
Yeah, yeah
And if you ever leave me
I don't want nobody else
Yeah, yeah
Because I want you to know
I want you to know right now
You know you make me wanna shout
Are teenage dreams so hard to beat?
Every time she walks down the street
Another girl in the neighbourhood
Wish she was mine, she looks so good
I wanna hold her wanna hold her tight
Get teenage kicks right through the night
Always look on the bright side of life
Do-do, do-do do-do do-do
I can't get no satisfaction
I can't get no satisfaction
'cause I try and I try and I try and I try
I can't get no, I can't get no
Hey Jude, don't make it bad
Take a sad song and make it better
Remember to let her into your heart
Then you can start to make it better
Na, na na, nanana na
Nanana na, hey Jude
21 Guns
Do you know what's worth fighting for
When it's not worth dying for?
Does it take your breath away?
And you feel yourself suffocating?
Does the pain weigh out the pride?
And you look for a place to hide?
Did someone break your heart inside?
You're in ruins
One, 21 guns
Lay down your arms
Give up the fight
One, 21 guns
Throw up your arms into the sky,
You and I
When you're at the end of the road
And you lost all sense of control
And your thoughts have taken their toll
When your mind breaks the spirit of your soul
Your faith walks on broken glass
And the hangover doesn't pass
Nothing's ever built to last
You're in ruins
Did you try to live on your own?
When you burned down the house and home?
Did you stand too close to the fire?
Like a liar looking for forgiveness from a stone?
When it's time to live and let die
And you can't get another try
Something inside this heart has died
You're in ruins

Minority
I pledge allegiance to the underworld
One nation under dog
There of which I stand alone
A face in the crowd
Unsung, against the mold
Without a doubt
Singled out
The only way I know
'Cause I want to be the minority
I don't need your authority
Down with the moral majority
'Cause I want to be the minority
Stepped out of the line
Like a sheep runs from the herd
Marching out of time
To my own beat now
The only way I know
One light, one mind
Flashing in the dark
Blinded by the silence of a thousand broken hearts
"For crying out loud" she screamed unto me
A free for all
Fuck 'em all
You are your own sight
American Idiot

Don't wanna be an American idiot
Don't want a nation that doubt the new media
And can you hear the sound of hysteria
The subliminal mind, fuck America
Welcome to a new kind of tension
All across the alienation
Where everything isn't meant to be okay
Television dreams of tomorrow
We're not the ones meant to follow
For that's enough to argue
Maybe I am the faggot America
I'm not a part of a redneck agenda
Now everybody do the propaganda
And sing along to the age of paranoia
Don't want to be an American idiot
One nation controlled by the media
Information age of hysteria
Calling out to idiot America
Jesus of Suburbia
I'm the son of rage and love
The Jesus of suburbia
From the bible of "none of the above"
On a steady diet of
Soda pop and Ritalin
No one ever died for my sins in hell
As far as I can tell
At least the ones I've gotten away with
But there's nothing wrong with me
This is how I'm supposed to be
In the land of make believe
That don't believe in me
Get my television fix
Sitting on my crucifix
The living room or my private womb
While the mom's & brad's are away
To fall in love and fall in debt
To alcohol and cigarettes and Mary Jane
To keep me insane and doing someone else's cocaine
At the centre of the earth
In the parking lot of the 7-11 where I was taught
The motto was just a lie
It says "home is where your heart is"
But what a shame
'Cause everyone's heart doesn't beat the same
It's beating out of time
City of the dead
At the end of another lost highway
Signs misleading to nowhere
City of the damned
Lost children with dirty faces today
No one really seems to care
I read the graffiti in the bathroom stall
Like the holy scriptures of a shopping mall
And so it seemed to confess
It didn't say much, but it only confirmed that
The centre of the earth is the end of the world
And I could really care less
I don't care if you don't
I don't care if you don't
I don't care if you don't care
I don't care
Everyone is so full of shit
Born and raised by hypocrites
Hearts recycled but never saved
From the cradle straight to the grave
We are the kings of war and peace
From Anaheim to the Middle East
We are the stories and disciples of
The Jesus of suburbia!
Land of make believe
And it don't believe in me
Dearly beloved, are you listening?
I can't remember a word that you were saying
Are we demented or am I disturbed?
The space that's in-between insane and insecure
Oh therapy, can you please fill the void?
Am I retarded or am I just overjoyed?
Nobody's perfect and I stand accused
For lack of a better word and that's my best excuse
To live and not to breathe
Is to die in tragedy
To run, to run away
To find what you believe
And I leave behind this hurricane of fucking lies
I lost my faith to this, this town that don't exist
So I run, I run away
To the light of masochists
And I leave behind this hurricane of fucking lies
And I walked this line a million and one fucking times
But not this time
I don't feel any shame, I won't apologize
When there ain't nowhere you can go
Running away from pain when you've been victimized
Tales from another broken home
I am leaving home
When It's Time
Words get trapped in my mind
Sorry I don't take the time to feel the way I do
'Cause the first day you came into my life
My time ticks around you
But then I need your voice
As the key to unlock
All the love that's trapped in me
So tell me when it's time
to say I love you
All I want is you to understand
That when I take your hand
It's 'cause I want to
We are all born in a world of doubt
But there's no doubt
I figured out
I love you
And I feel lonely for
All the losers that will never take the time to say
What was really on their mind instead
They just hide away
Yet they'll never have
Someone like you to guard them
And help along the way
Or tell them "when it's time?, to say I love you"
So tell me "when it's time, to say I love you"

Wake Me up When September Ends
Summer has come and passed
The innocent can never last
Wake me up when September ends
Like my father's come to pass
Seven years has gone so fast
Wake me up when September ends
Here comes the rain again
Falling from the stars
Drenched in my pain again
Becoming who we are
As my memory rests
But never forgets what I lost
Wake me up when September ends
Ring out the bells again
Like we did when spring began
Wake me up when September ends
Like my father's come to pass
Twenty years has gone so fast
Wake me up when September ends
Good Riddance (Time of Your Life)
Another turning point
A fork stuck in the road
Time grabs you by the wrist
Directs you where to go
So make the best of this test
And don't ask why
It's not a question
But a lesson learned in time
It's something unpredictable
But in the end is right.
I hope you had the time of your life.
So take the photographs
And still frames in your mind
Hang it on a shelf
In good health and good time
Tattoos of memories
And dead skin on trial
For what it's worth
It was worth all the while
It's something unpredictable
But in the end its right
I hope you had the time of your life

And now for the pretty part, the picspam XD


The picture's I've used here aren't my own photos as I didn't get any decent ones. I got these from Green Day Authority. I coloured and arranged them all myself though, so as usual please dont steal this and repost anywhere else. Thankies!

As always comments make me really happy, especially with how hard I've worked to write the review and make the picspam :)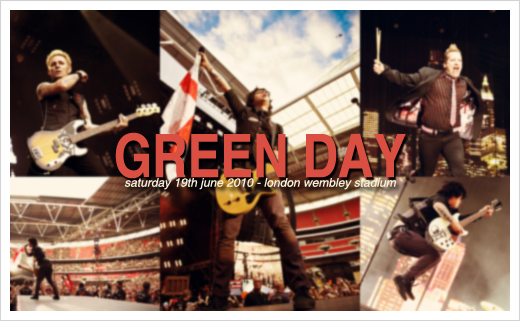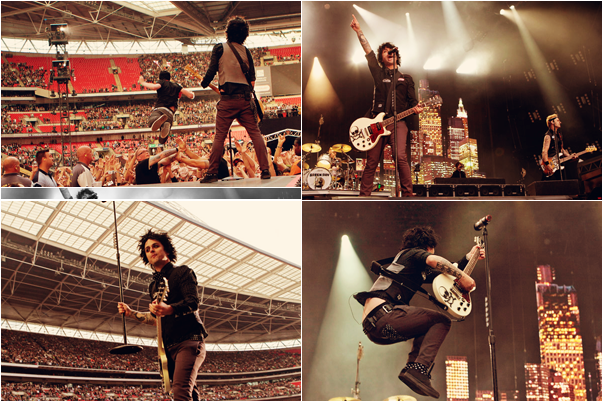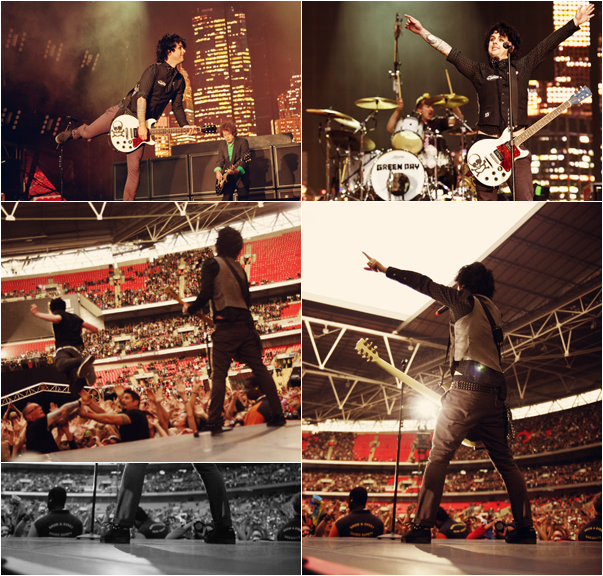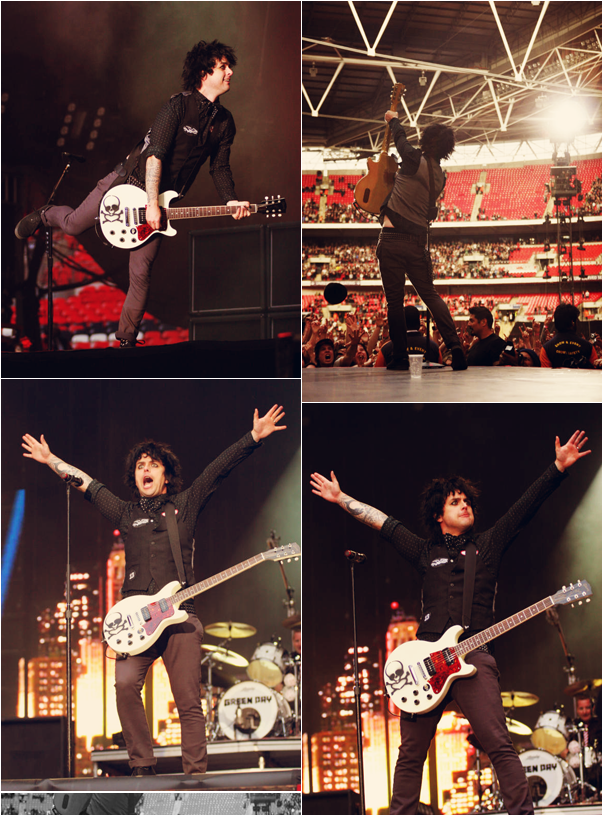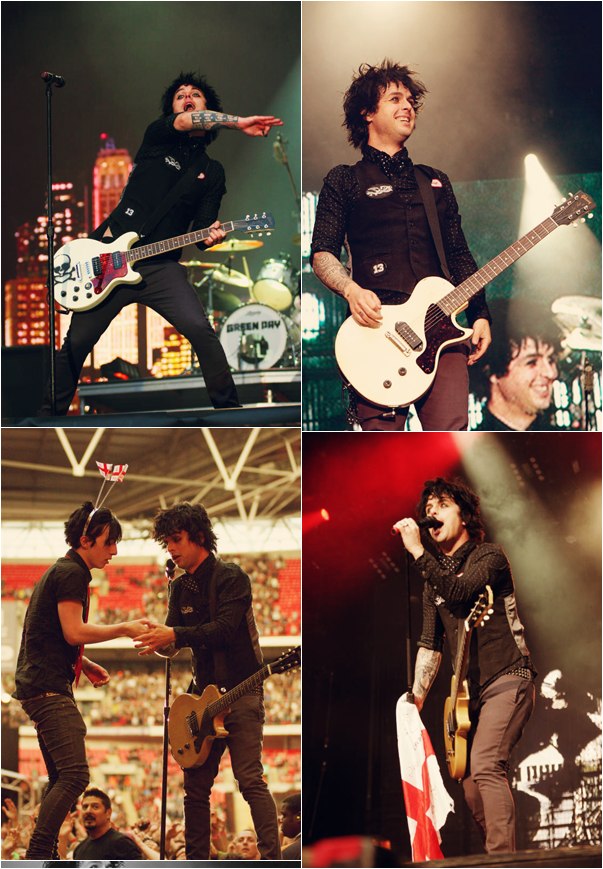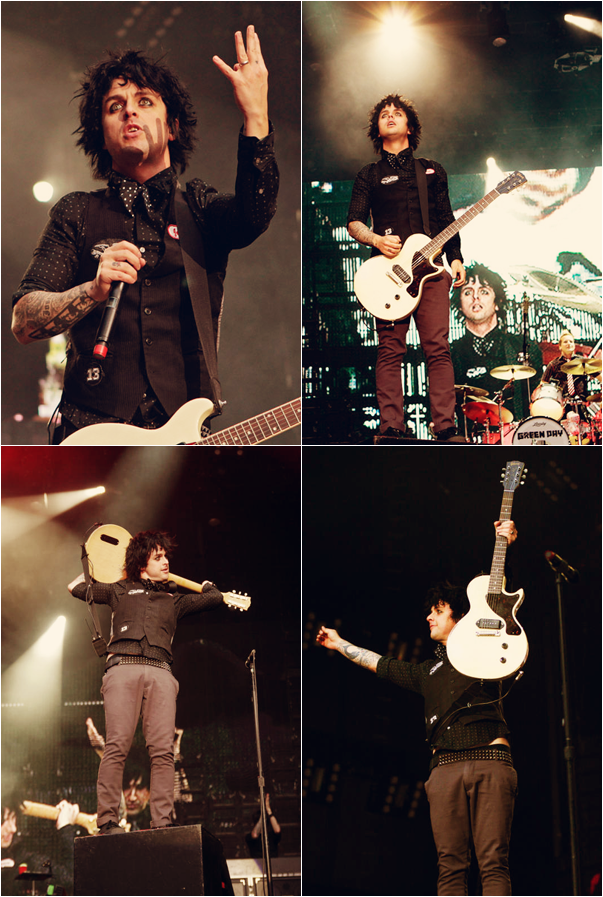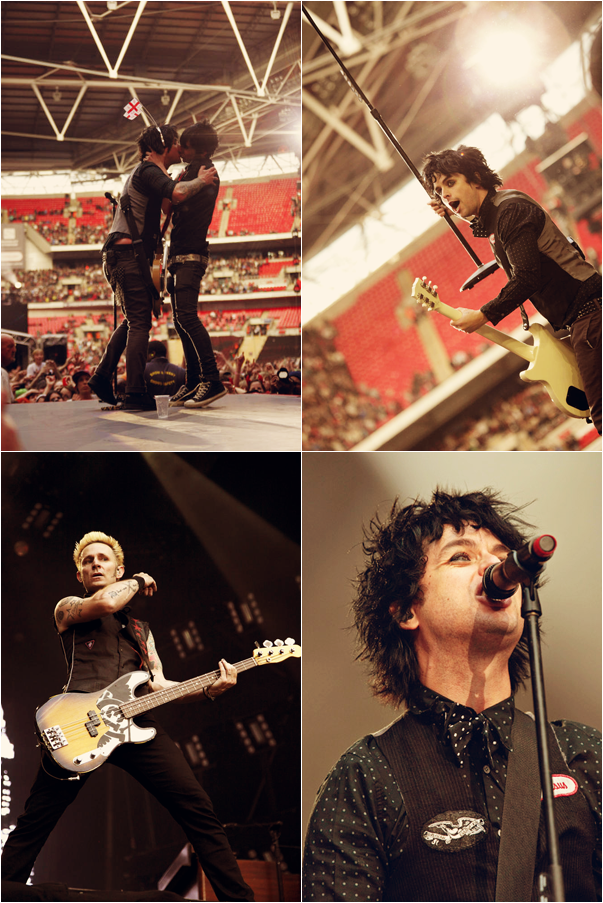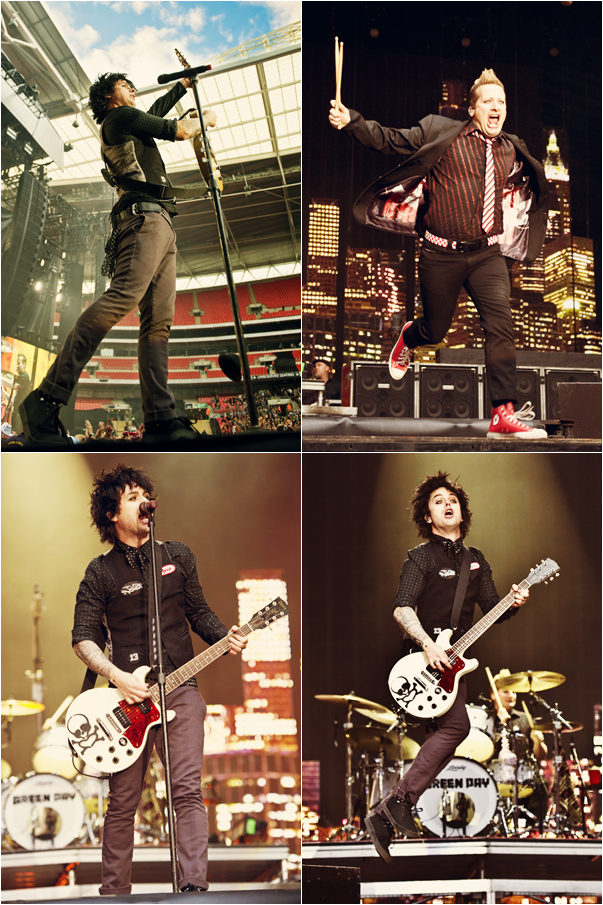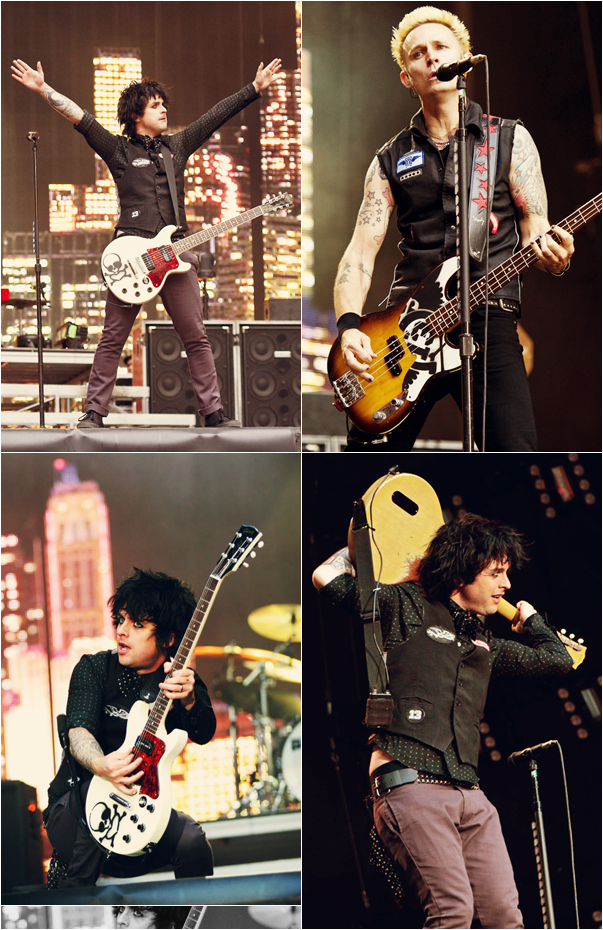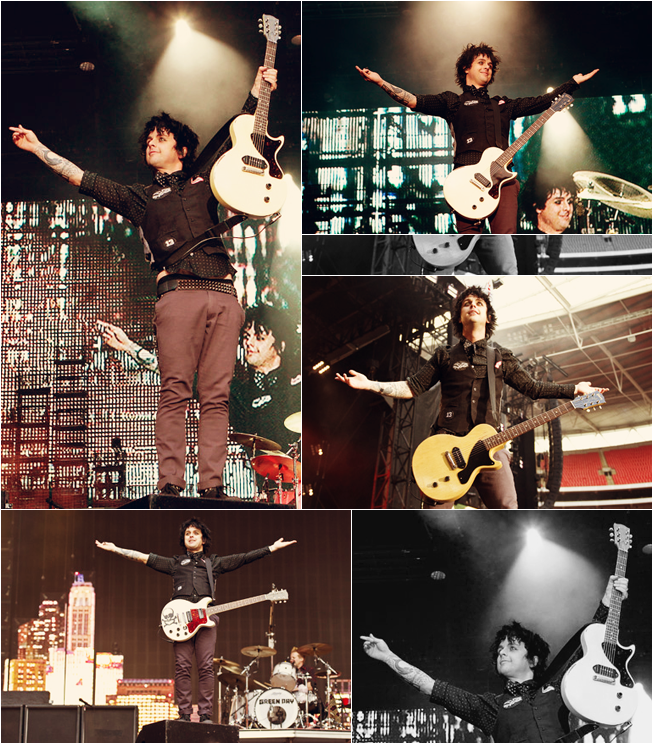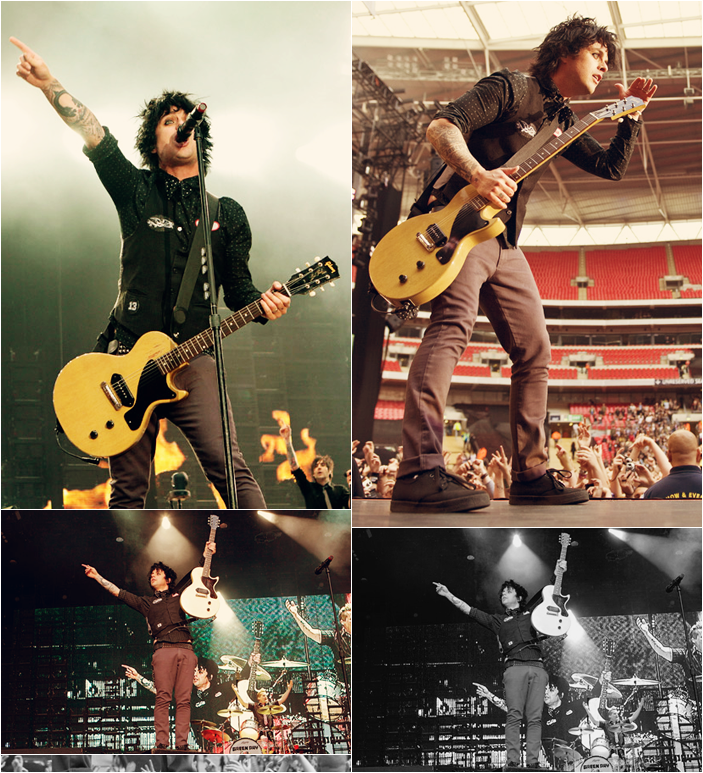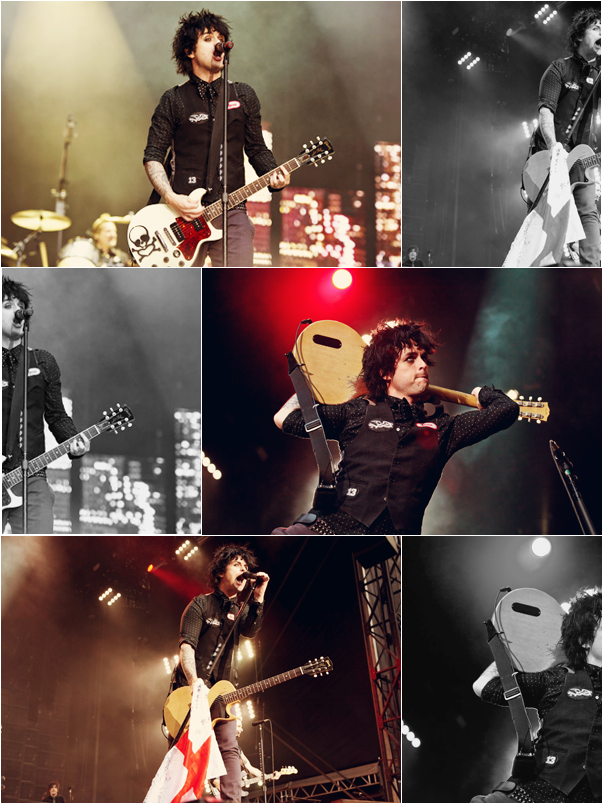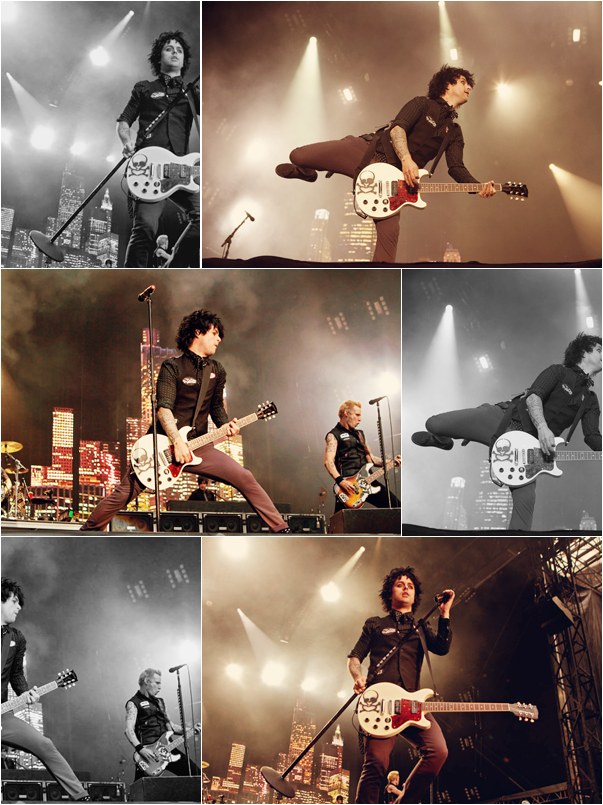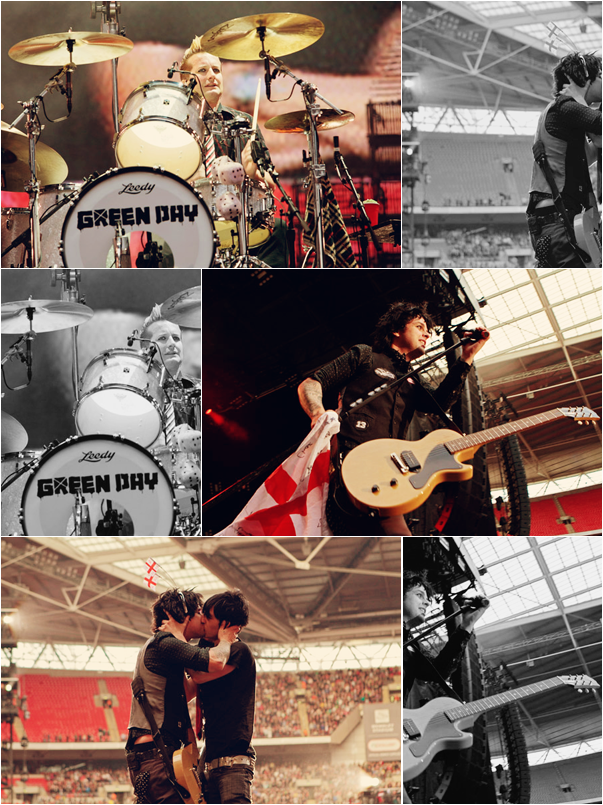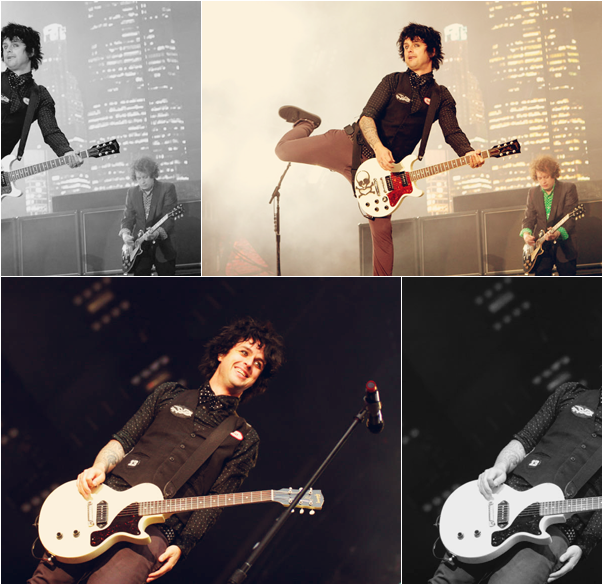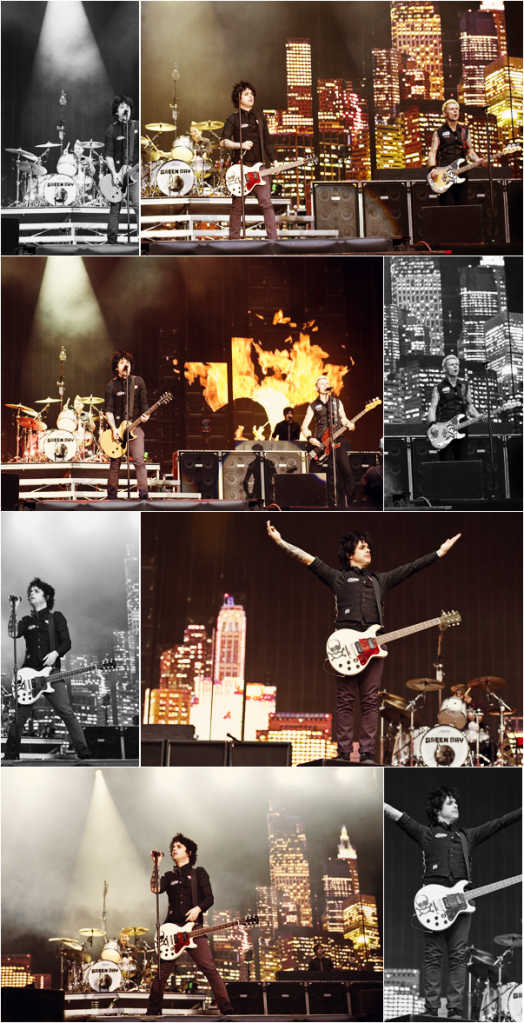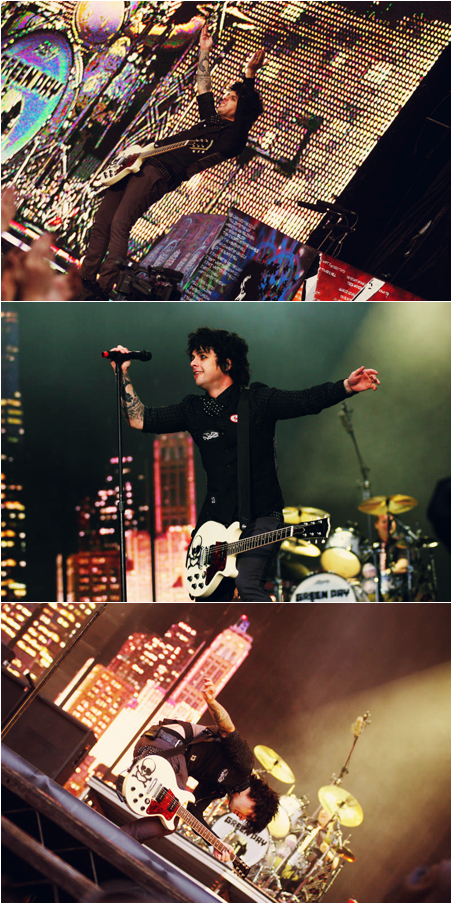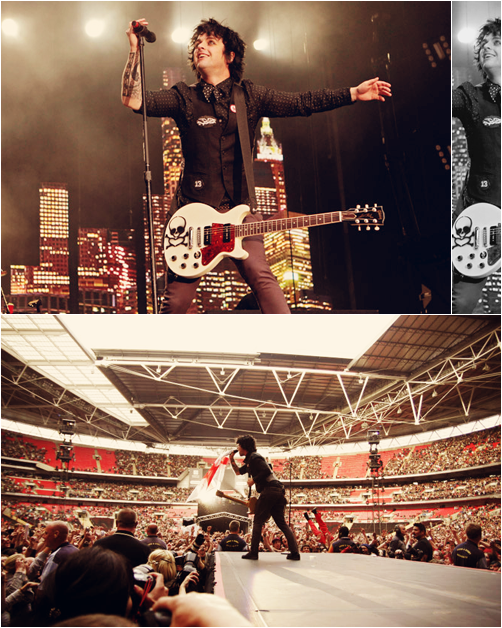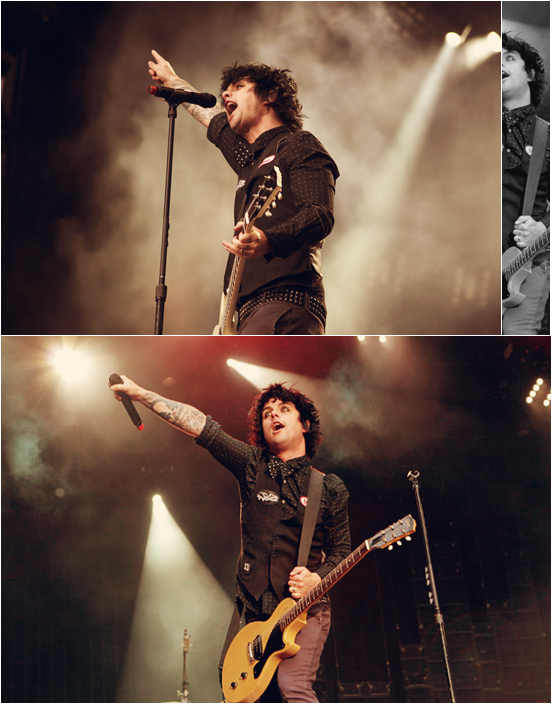 *insert fangirl squeal here*

My photos

These photos were taken by my friend who has given me permission to use them, so please please please please PLEASE DO NOT steal these and post them anywhere else!


Still to come: (hopefully) lots of videos